Ongoing support for Shoalhaven Education Fund
14 February 2023
Over the past four years, the Shoalhaven Ex Services Group (SESG) has donated $17,500 to the local group Shoalhaven Education Fund (SEF), that provides financial assistance to young students, empowering them to pursue their career aspirations after high school.
SESG CEO Bernie Brown recently took the opportunity to meet SEF grant recipients and hear how the funding will help towards their further education, at the recent scholarship presentation.
"SEF is a fantastic local community group helping young people at the start of their careers and we're thrilled to be involved via our ClubsGrant scheme," said Mr Brown.
The SEF provides much-needed financial assistance and support to local youth to help them achieve education, training, and vocation aspirations after high school, because the cost of regional students pursuing education is often much greater than their metropolitan counterparts.
SEF supports a diverse range of education and career pursuits including apprenticeships, traineeships, cadetships, degrees, diplomas and certificate-level studies or entry careers, by reimbursing the student for a pre-agreed expense or paying the goods and services providers directly.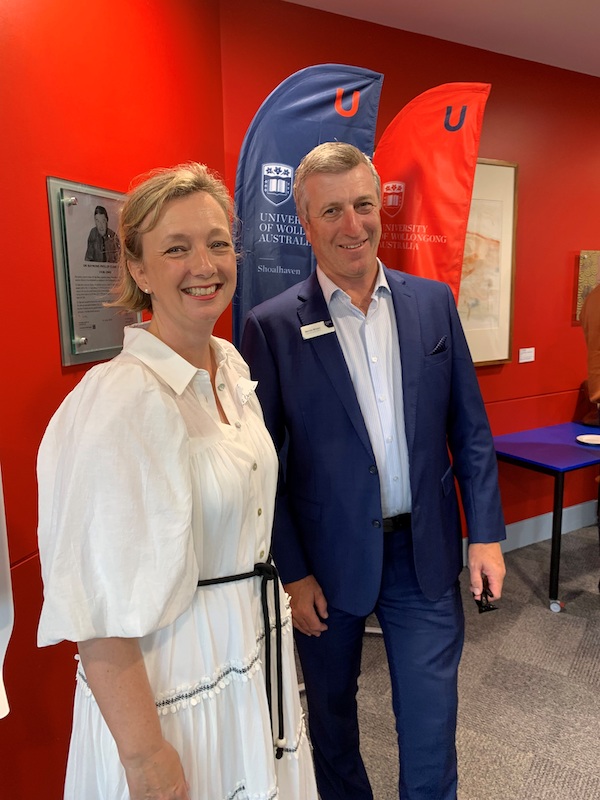 Shoalhaven Ex Servos Directors help out in the Central West
13 February 2023
Shoalhaven Ex Servos Group directors Bill Garrick and Neville Whalan recently participated in an event to help victims of the extensive floods in Eugowra in the NSW Central West.
The initiative was led by Orange Ex-Servos Club with the involvement of other clubs around NSW including Shoalhaven Ex Servos as part of its community giving program.
Bill and Neville travelled to the Central West and joined the other volunteers at Eugowra Showground to distribute gift cards to eligible locals. Over 180 families received gift cards on the day.
The Board members cooked the free BBQ all day in the searing heat and got the chance to speak to the residents and hear their stories about how the floods affected them.
The trip also gave the men the opportunity to visit the Orange Ex-Servos Club and enjoy the roof-top bar, and a tour of the venue.
The day ended with all the volunteers meeting in the air-conditioned Eugowra Bowling Club.
Donation to Salt Care to assist Safe Shelter
In early November we had the great honour of presenting the wonderful people of Salt Care with a cheque for $40,000! Salt care is an incredible local charity organisation providing care and assistance to people experiencing homelessness.
This grant will go towards keeping their Safe Shelter, which provides emergency accommodation, open and running.
We're incredible thankful for the opportunity to assist an organisation that lends compassion and dignity to come of our regions most vulnerable individuals.
Lending a hand to the Nowra Community Food Store
Our Bernie and Michelle lent a hand to the Nowra Community Food Store in late September. They were kept busy driving around and picking up stock from local Woolworths stores.
The Nowra Community Food Store is a charity run store providing low cost groceries and fresh fruit and veg to low income families and people doing it tough. You may recall in late July when these guys had to retire their delivery van after it broke down on the highway. We were able to help them out with a brand new van and, as we were able to test out first-hand, it's getting put to good use!
Donation to Shoalhaven Education Fund Will Assist 10 Local Students in Their Studies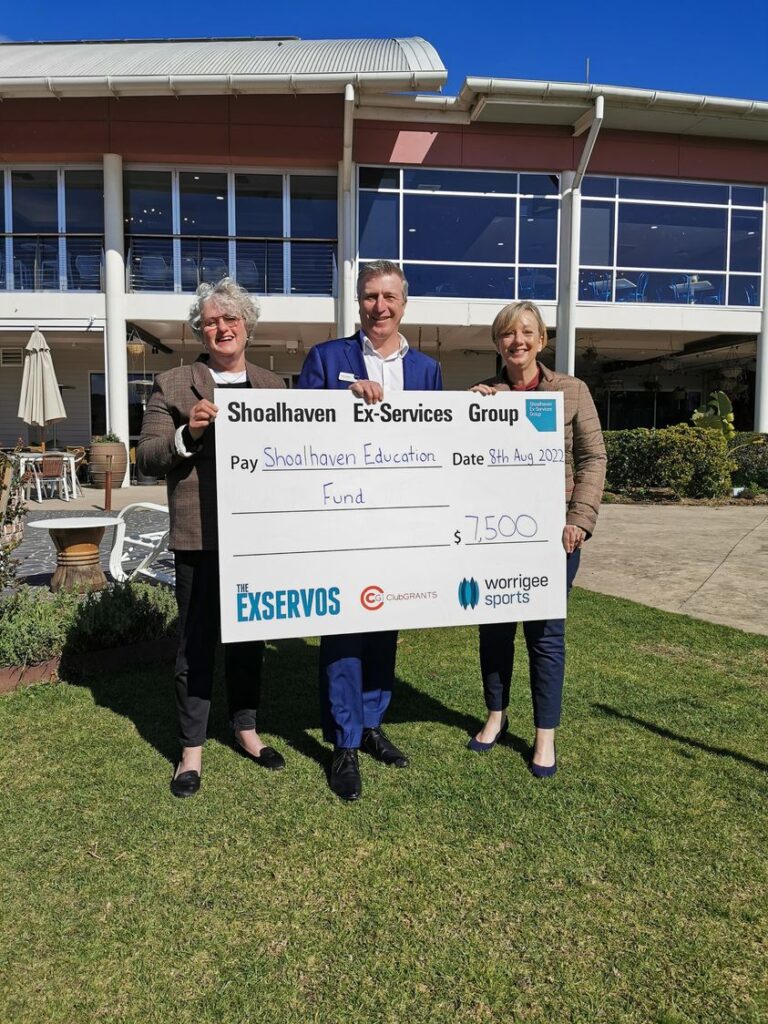 The Shoalhaven Ex-Services Group is proud to provide ongoing support to the Shoalhaven Education Fund (SEF). SEF is another fantastic community group doing great things for our region. Their fundraising efforts provide financial assistance to young students, empowering them to pursue their career aspirations post high school.
On August 8th, Shoalhaven Ex-Services Group presented SEF with a $7,500 contribution that will directly support at least ten local students in their studies and training. We're thrilled to be a part of this cause and wish the best to all the young people of the Shoalhaven that SEF provides assistance for.
Nowra Community Food Store Receives a Life Changing Grant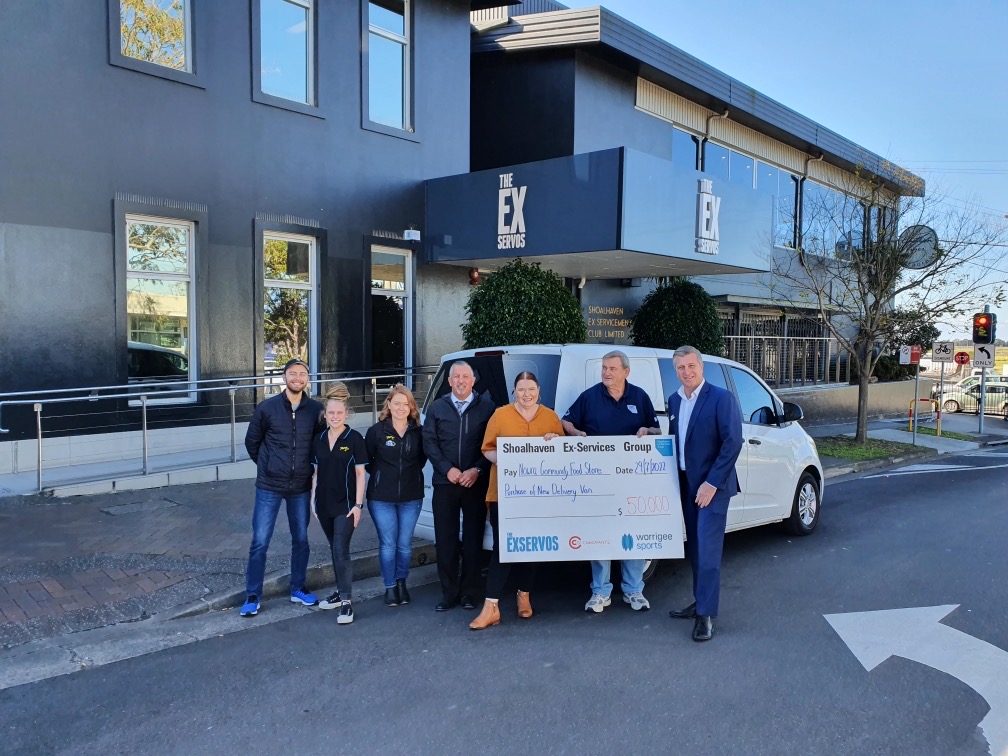 The Shoalhaven Ex-Services Group were honoured to present Nowra Community Food Store a $50,000 club grant for a new van.
Nowra Community Food Store is a low cost grocery store giving low income earners access to affordable everyday essentials. Last Thursday their delivery van broke down on the highway, putting their services on hold. We were keen to lend a helping hand and get these guys back on the road again.
Nowra Community Food Store is just one of the many deserving community groups we are able to provide assistance to through the ClubGRANTS program. It is always a pleasure to give back to our community
Mentoring Men
Grant helps Theatre Techs Communicate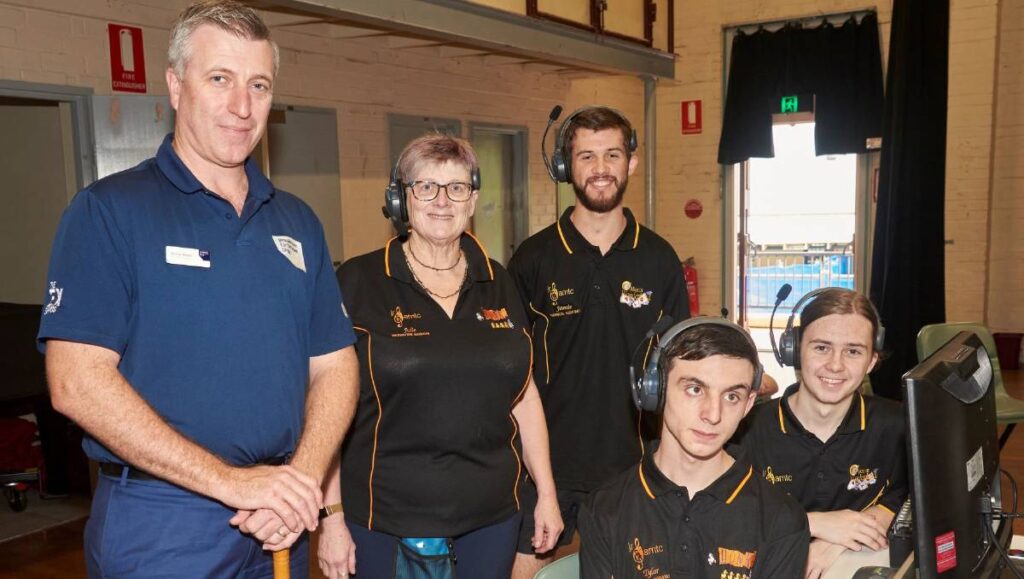 Shoalhaven Ex-Services Group has fulfilled a donation to The Albatross Musical Theatre Company (AMTC) who secured more than $3000 in Club grant funding to purchase wireless headsets and spare batteries for communication.
Visit here to read more about this.
Worrigee Links Shirts
Winners are grinners! Smiling ear to ear with new Worrigee Links shirts on, at the first Shoalhaven shield game of the year.